e harmoni wrote:
Thanks for your reply, Omar. But I'm confused... what do you mean by "hispanic"? White Spanish?
She looks like an average Latina to me, however a young Puerto Rican woman on mulatto.org refers to herself as Mulatta and says there are others in Puerto Rico thought of as Mulattas too. I didn't know this. So it got me curious as to what J-Lo would be considered. I did Private Message the young woman a few days ago and asked her about J-Lo but she has not responded back to me [shrug]. So I'm asking her because I know there are more Latinos here.
J-Lo is one of my most favorite gals in both looks and personality. I heard she treated some fan on MTV, that MTV hooked her up with for a day, real well and he was a pretty shy and what you might say unattractive dude. She was calling him "Papi" and everything. For that I'll always like her, I don't care how many husbands she has or goes through. To me she's one of the most sexy and beautiful women on the planet with a way cool personality. For me she's my "Marylin Monroe" times 2.
All hail the Queen.
If you ask me, there are plenty of women in Spain darker than Jeniffer Lopez, also in the Arabian countries that does not necesarily are Mulattas.
I really don't know with Jeniffer. She can play roles of common Latinas, Whites and Mexican people without problems at all.
Now I will show you a lady that IS mulatta. No doubt about it. She is Sonia Braga
Compare with a Mestiza (Euro-Native), in this case Linda Crystal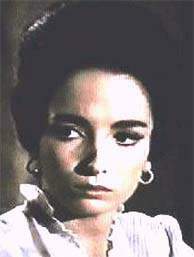 Andalucian women from Spain can look like this girls.
A women from Seville with Moorish aspect:
Average Sevillan women
Cordoba's woman
And sevillan kids:
In other worlds, It is hard to tell where are the limits in the so called "races". And is even harder to tell if a "tanned" people is because their genes came from Europe, West Africa or they are from Native Americans. If the curly hair came from Europe or Africa or if the long hair, the narrow nose and the rounded chin came from Spain or it was Native.
So, in the case of Jenny I don't know
Omar